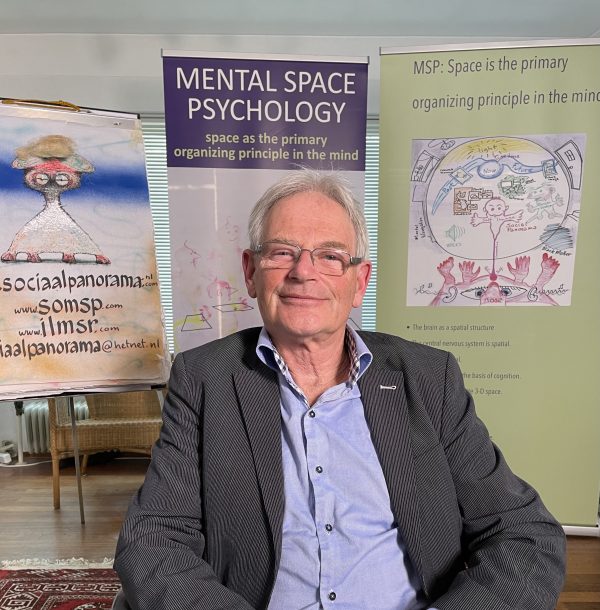 3-days online international Mental Space Psychology© training by Dr. Lucas Derks 
Learn all about Mental Space Psychology
For psychologists, psycho- and hypnotherapists, doctors, physiotherapists, teachers, coaches, NLP-ers and trainers.
Trainer: Lucas Derks PhD
Date: 25, 26 and 27 November 2022
Location: Online, English language
Price: € 375,00
3-day Mental Space Psychology training
With spatial diagnostics, trauma processing and many other therapeutic applications of Mental Space Psychology.
You can order the book Mental Space Psychology at https://shopsomsp.com/shop/books/mental_space_psychology/
You can order the book Mental Spatial Diagnoses at
https://shopsomsp.com/shop/course-material/msd-1/
What participants thought of it:
Very valuable training, where you experience practical exercises and learn to apply them yourself! This 3-day training is a pragmatic and deepening addition to NLP and Social Panorama methodologies.
Tatjana,
We found the training absolutely interesting and inspiring. In our own way of working with Hypnotherapy, Regression Therapy and Inner Child Therapy, we already make a lot of use of mental space, but the training has given it more context and background.
Ellen de Jong and Louis Crijns
I had been looking forward to the Mental Space Psychology (MSP) workshop for a long time and it turned out to be more than worth the wait.
In three days we were immersed in a workshop that was fantastically designed by Lucas. After each piece of theory, he gave a demonstration and we were able to work with our brain in space, our body in space, time in space, our language in space and much more. We were also introduced to a great online programme with which you can set up a social panorama together with your client. The work with depressive feelings was downright impressive.
We also worked with a technique that can help clients with eating problems. Trauma in space was a nice addition to the techniques I already knew for processing trauma. Thanks a lot!
Sjaak de Coninck, Traffic behaviourist|Integrative (EMDR) therapist|NLP trainer|coach
It is a top methodology. I did this training in 2019 and have been working with it for a while now , and it is amazingly effective. If more people start working with it , life will become a lot more pleasant for many.
Helmie Brode
I enjoyed the three-day Mental Space Psychology, 20, 21 and 22 November.
As a Master NLP and certified NLP trainer, I already worked a lot with the Social Panorama of Lucas Derks. I often use exercises from the book "Social Thinking Patterns" in one-on-one sessions with clients.
The MSP has supplemented and deepened this.
The many demos were enlightening and inspiring.
It was also interesting and nice to be able to experience and witness exercises for myself.
I am very glad that I did/experienced/experienced this 3 days: Really a beautiful addition. Wonderful to be able to work in this way, briefly, powerfully, deeply and effectively!
Many thanks!
Marian Verschuren.
The training was very interesting. A lot of information, in terms of psycho-education and also great interventions to use in my practice. I find the training an extension and deepening, in terms of understanding where MS comes from. And how to apply it more and differently.
Thanks for the excellent training.
Marlene Monster-Linkers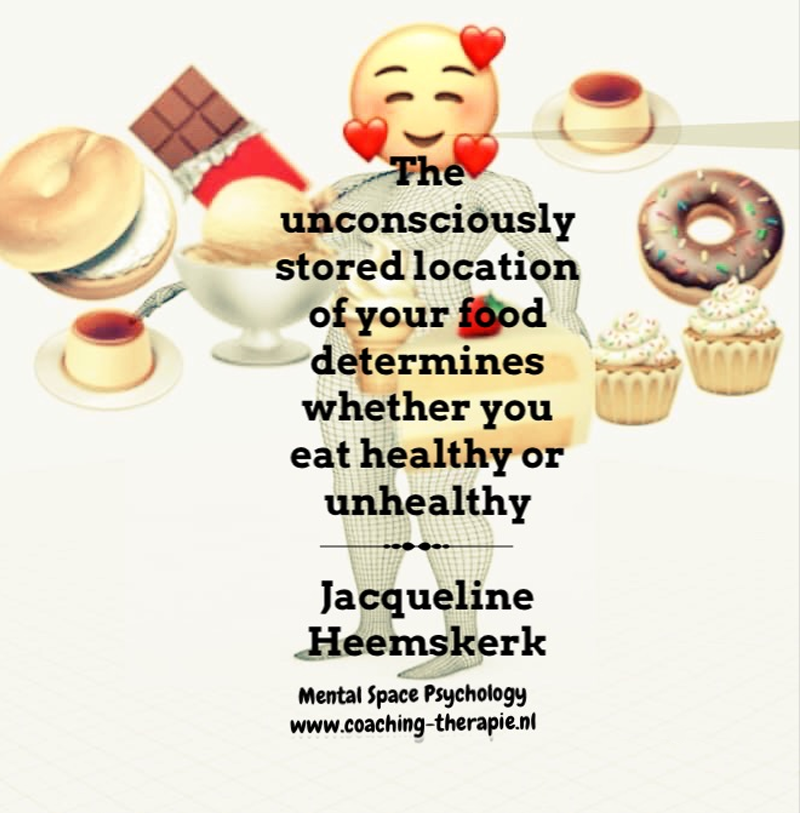 Unconsciously eat healthy and lose weight

©

 (English/Dutch, online)
Change your unconscious eating pattern in 3 lessons with video guidance.
This training is based on Mental Space Psychology and a new and effective way to change your old eating habits.
Unconsciously eat healthy and lose weight©
Change your unconscious eating pattern in 3 lessons with video guidance
And on an unconscious level! That makes the difference, because you probably already know everything about diets, counting calories, shakes, healthy and unhealthy food. You are mainly busy with your mind to eat differently, but unconsciously you are still stuck in your old pattern. That is the reason that all those diets etc. usually only work temporarily and you often experience this as a struggle within yourself.
The problem lies in your unconsciously stored nutritional patterns, the images you have ever stored of your food are stuck in your memory.
So the solution lies in changing these unconscious images. But it is unconscious, so you don't know how to change it.
In this online training: Unconsciously eat healthy and lose weight©, you will be helped with this.